COFFINS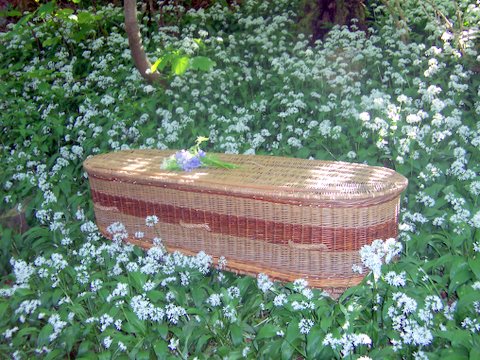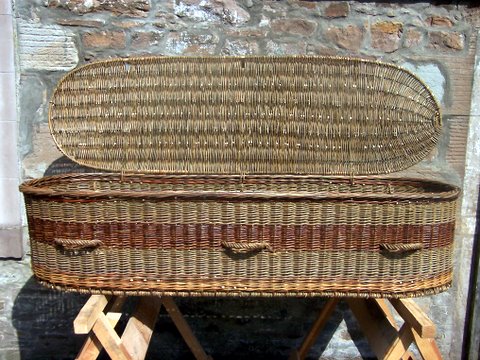 Brown Willow: This is willow with the bark left on so allowing different coloured varieties to be used, providing natural decoration to these coffins. This material can take up to two weeks to soak before use which increases production time.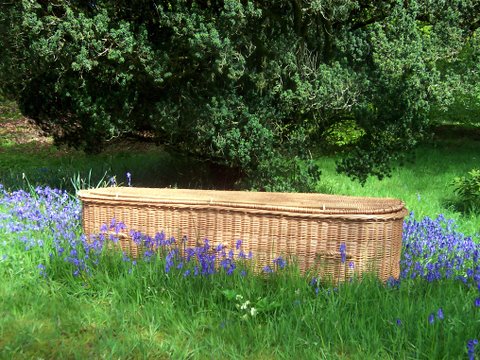 Buff Willow: This is willow that has been boiled and stripped to provide a uniform pinkish colour. The additional processing increases the embodied energy, but allows for more rapid production, as soaking time is much reduced.
Sizes;
Does not include handles
| | | | | | |
| --- | --- | --- | --- | --- | --- |
| Internal | | | External | | |
| Length | Width | | Length | Width | |
| 5'6"(168cm) | 18" (45cm) | | 5'9" (175cm) | 20" (50cm) | |
| 5'8" (172cm) | 20" (50cm) | | 5'11" (180cm) | 22" (55cm) | |
| 5'10" (178cm) | 20" (50cm) | | 6'2" (188cm) | 22" (55cm) | |
| 6' (183cm) | 20" (50cm) | | 6'4" (193cm) | 22" (55cm) | |
| 6'2" (188cm) | 20" (50cm) | | 6'6" (198cm) | 22" (55cm) | |
| 6'4" (193cm) | 22" (55cm) | | 6'8" (203cm) | 24" (60cm) | |

Overall height 16" (40cm)
We aim to carry the above sizes in stock, in brown and buff willow. Please allow two days for delivery to your Funeral Director or other specified address.
Special Orders
Non standard sizes can be made to order. Delivery times for these coffins are as follows:
Brown Willow - Please allow up to three weeks notice for making and delivery.
Buff Willow - Please allow up to four days for making and delivery.
Load capacity. Every coffin is test loaded to 100kg (15st 10lb). Load taken equally on all six handles.
Increased test loading on application.
Other products
We can supply infant caskets and cremation urns in brown, white or buff willow, please enquire for details.
Sustainability
Carbon: All parts of our coffins are made with willow; no processed timber or metalwork is needed. Finishing materials supplied with coffins are natural, organic and bio-degradable wherever possible. Choosing a burial with one of our coffins will lock away the carbon contained within the willow which then breaks down completely and safely in the soil environment.
Cremation releases the carbon, but since willow is harvested annually, this is part of a current carbon cycle, and does not release carbon locked away in the older timber used in traditional wooden coffins.
Organic Willow: Willow species and hybrids are U.K native trees that grow very well in a range of soils and which, with appropriate selection of varieties and planting arrangements, do not require any agro-chemical input to continue producing for many years.
We use organic willow as far as possible in our coffins, grown on our croft on the Isle of Eigg or by other Scottish growers.
Imported Coffins: Many so called, alternative coffins are imported from overseas, with all the associated energy costs.
We make all our coffins by hand here in Scotland, with native material.
back to top